Hello! Welcome to my post for OWLS´September Tour! In case you want a quick glance on what OWLS is, you can click here. This month's blog tour theme is "Treasure".
OWLS September Theme – Treasure
There are moments in our lives where we lose our sense of self-worth and value and as a result, we find ourselves deep in darkness or drowning in the ocean. However, every person in this world is a treasure—we treasure ourselves or we are treasured by others—and at times, we may need to be reminded of that.
For this month's topic, we will be exploring pop culture characters who have suffered from mental illnesses, depression, and/or suicide. We will be discussing how these individuals cope with these issues, the reasons for their emotions, and how they handled the situations they are in.
***Mental illness, suicide, and depression are pretty serious topics and we hope that our OWLS post will give you some solace.
---
For this month's topic, I'm going to use Re:Creators.
Re:Creators is an anime about the interactions between the multiple characters, from anime and video games, with their creators. The interactions where made possible thanks to an invincible doujinshi character wreaking havoc on Earth because of her hate to the world.
Everything that happened in the anime was caused by the suicide of Setsuna Shimazaki.
Setsuna Shimazaki was a freelancer artist who uploaded her drawings in a social community for artists (like DeviantArt). She soon became an online friend with fellow freelancer Sota (MC lead of Re:Creators) on the online platform and they decided to meet each other IRL for an otaku event.
In the otaku event, Sota and Setsuna shares some unforgetable experience together, which may be kind of normal for us but not for them, strengthening their friendship.
Sadly, Setsuna's work becomes more popular over the time, leaving Sota behind which prompts him to feel jealous.
Setsuna's work becomes a target for critics by fellow artists who felt envy for her good luck, badmouthing her works and considering them plagiarism.
Setsuna tries to find a light of hope underneath the sea of malice that was burying her, reaching her hand out to her dear friend Sota. Sota, envious of her fame, gave her the cold shoulder.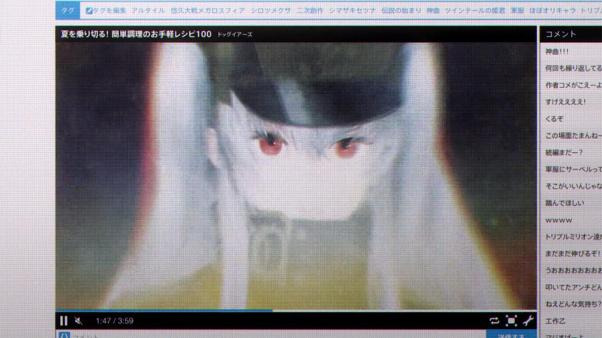 Alone in the battlefield, Setsuna pours everything she had onto her new doujinshi character called Altair, in hopes that she will be loved by the world. She sends a link of her work to Sota as a good bye and gesture of appreciation for the times they shared together. Afterwards, Setsuna commits suicide by train impact, leaving the unfair world behind in hopes that her last character gets loved.
Feeling guilty of his actions, Sota deletes all records of his interactions with the deceased Setsuna,
The anime didn't show how Setsuna coped with the cyber bullying, how her lifestyle was, etc. We can infer that she spent most of her time online, doing what she loved.
Due to the cyber bullying she received, she felt lost because the world was denying her existence. The things she loved to do the most (i.e. music composition, drawing, animation) were being called plagiarism and that everything she was doing was copying others. The cyber bullying didn't have any grounds or evidence to sustain it, nevertheless, it was shocking for Setsuna. Before ceasing to exist as the Setsuna she loved to be, she decided to end her torture.
Her suicide could have been prevented if she had received some sort of support to her work in her dire times. Setsuna only wanted a thread of hope to grasp on, to know that someone out there approves of her existence and is looking forward to the future she can deliver. If only Sota and Setsuna had a one on one conversation to talk about things, their life would have been different.
That's why, my dear reader, it's very important to share happiness and love to everyone surrounding you in your daily life. You don't know how many lives you can save with your smile.
Additionally, don't do cyber bullying. You become part of the problem when you are doing it.
Conan-kun once said: words are swords that you can't sheathe back.
---
I hope you enjoyed my OWLS blog post for September! If you missed the blog tour post before this one, which is Arria's, go check it out here! Next post for the tour is a collaboration event livestream where Kat and Naja are sure to surprise us. You can eagerly await for their surprise in Kat's youtube channel!
Additionally, I want to share that OWLS is having a giveaway event for the book called Lighter Than My Shadow by Katie Green. It's a book about the struggles of dealing with mental illness. You can find more information about the giveaway by clicking here!
Thanks for reading!